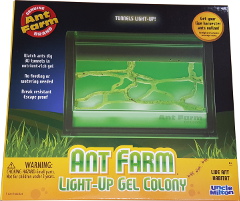 Light-Up Gel Colony
Watch ants dig 3D tunnels in nutrient-rich gel. The LED shines through the gel for a truly cool ant watching experience. No feeding or watering needed. Break Resistent and Escape Proof. The Light-Up Gel Ant Farm kit includes: Prefilled Gel Ant Farm, LED light module (batteries or AC adapter required - not included), Tunnel Starter Tool, Ant Watcher's Manual, Certificate to order ants - Fee Required.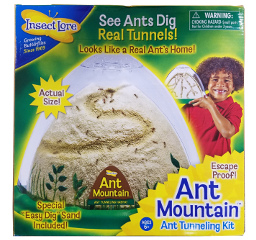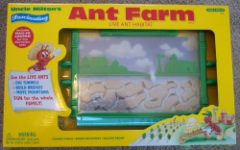 Uncle Milton Ant Farm
This is what most people think of when you say "Ant Farm". Watch ants construct a subtaranean network underneath their farm. Multiple farms can be connected via ports on the sides. Break resistent and escape proof it comes with Tunneling Sand and an Antway travel tube. Ant Farm measures 9 X 6 inches.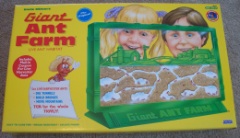 Uncle Milton Giant Ant Farm
A larger version of the Ant Farm, the Giant Ant Farm offers a Bigger Ant Watching Experience. The Giant Ant Farm is a whopping 15 X 10 inches! Plenty of viewing room to watch your ants construct their tunnels and chambers. The Giant Ant Farm is not connectable.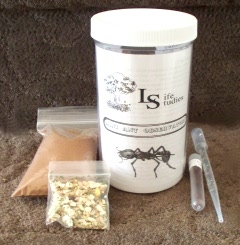 Ant Viewer Observatory
The Ant Viewer is a cylinder shaped observatory about 5 1/2 inches tall. An inexpensive way to experience the world of ants. The Ant Viewer comes with Sand, Ant Food, Water Pipet, and a Small Supply of Ants (About 15). Order 2 or more for Science Projects and get a great discount.
Price (1): $

9.95

Price (2 or more): $

7.50

each
Note: If you will not be setting up your Ant Viewer right away, please request a voucher that can be redeemed later.